Andersons Wholesale greeting cards guide
Andersons Wholesale has been a wholesale greeting cards supplier for almost 40 years and we lead the market in carrying the latest card ranges and offering great prices. Our customers include UK and overseas greeting card shops, gift shops and toy shops, post offices, supermarkets, visitor attractions, nursing homes, schools, driving instructors, recruitment agencies and many more businesses, organisations and traders.
Please see below for a handy guide to greeting card sizes.
We stock cards by Simon Elvin, Isabel's Garden, Carson Higham, Xpress Yourself, Silverline, Xpressions and many other quality greeting card publishers.We have probably the largest selection of wholesale greeting cards available to order online. We give a fast efficient service and we are always happy to advise our new and exisiting customers about buying wholesale greeting cards.
We are very happy to advise and help anyone wishing to sell greeting cards for the first time. We have helped many customers stock new shops or greeting card stands and are very experienced in the trade. Please call or email us so that we can help you with your requirements. You can reach us on 01842 824505 during office hours - 9am to 5pm Monday to Friday - or email info@andersonswholesale.co.uk. Emails are monitored outside trading hours and prompt responses are given to all enquiries.
We are very selective about the cards we stock, and have new designs and titles each week. Our greeting cards are all discounted below the trade price listed on the pack to give you as much profit as possible, and even greater savings can be made by buying our greeting card starter packs and bulk buy packs. If buying one of these ready made card packs, we also supply the title finder cards for your cards racks, making it easier for your customers to locate their required cards.
Included in our greeting cards bulk buys section are our Andersons Exclusive assortments - hand picked by us from our stock of quality publishers' cards. You'll get a great range of designs, colours and finishes - and as we've put them together won't find these assortments anywhere else! They give you really great savings too.
Further discounts off the trade price are available for regular volume purchases over £1,000 ex VAT - please email or call 01842 824505 for details.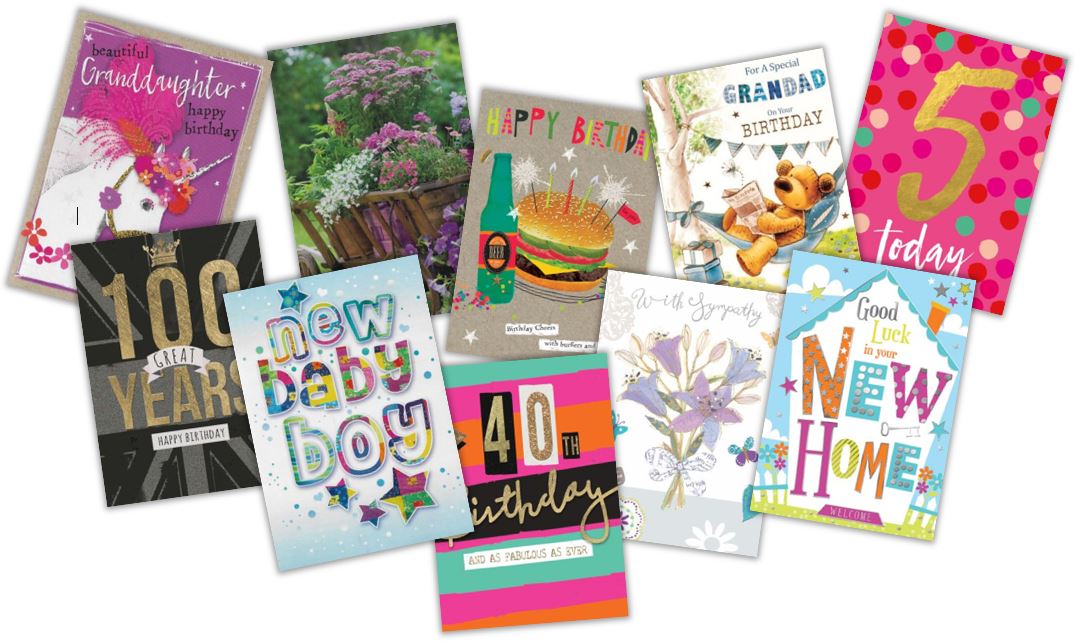 GREETING CARDS SIZES EXPLAINED
All greeting cards we stock are sold in packs of 6 or 12, or in boxes of 72, 120 or 144. This is clearly stated in the listing for each pack or box of cards. Within the pack or box, each card and accompanying envelope is cellophane wrapped. The only cards we sell which are NOT cellophane wrapped are our individual boxes of 8 square cards.
When choosing cards, please make your selection by the card caption listed.
As well as showing the pack sizes, we list each card with the standard Greeting Cards Industry size code. These codes are explained below.

All sizes are approximate and may vary slightly from publisher to publisher. Where you also see a letter on the reverse of the card (i.e code G 50) the 'G' denotes the code for the retail price where retailers use an alphabetical reference list to denote their greeting cards pricing. We do not list any recommended prices.

All our customers set their own pricing, as they can vary according to the nature of their trade. However, if you require guidance or advice on greeting cards pricing, please feel free to contact us on 01842 824505
CODE 25 Size 85mm x 152mm
CODE 35 Size 177mm x 126mm or 87mm x 152mm
CODE 45 Size 185mm x 125mm or 178mm x 127mm
CODE 50 Size 195mm x 135mm - this is the most popular standard size of greeting card sold
CODE 50 Multi-fold cards Size 195mm x 127mm
CODE 55 Size 230mm x 127mm or 230mm x 120mm
CODE 57 Size 150mm x 150mm
CODE 60 Size 185mm x 135mm - all Carson Higham cards are this size.
CODE 72 Size 230mm x 135mm
CODE 75 Size 230mm x 155mm - this is the most popular size for large greeting cards
CODE 90 Size 245mm X 170mm
CODE 100 Size 229mm X 305mm
CODE 125 Size 280mm x 175mm
CODE 150 Size 248mm x 175mm